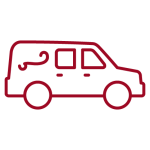 Funeral Service
Simply tell us what kind of funeral service you have in mind and we'll smooth out the details. We offer:
A traditional service held in a chapel with a private or public cortege
A funeral or committal service with no cortege 
A service at a crematorium, graveside or Black's Funerals chapel
A memorial or thanksgiving service where no coffin is present
Should you choose your funeral venue in a church or chapel, we are happy to organise the clergy 
We offer custom coffins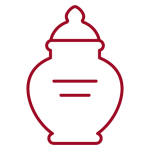 Cremation, Urns & Jewellery
Because many families today choose cremation, our funeral home has its very own crematorium. You can scatter your loved one's ashes in a meaningful place, keep them in an urn at home or have them buried in a designated plot of land at the crematorium. We provide a variety of beautiful urns for you to choose from. We can also arrange for jewellery to be made, so you can always keep your loved one close to you.
Send Out Notices
We help prepare funeral notices to inform friends, relatives and the community about the passing of a loved one and convey details of the funeral service to follow. Black's Funerals will place notices in local newspapers and even newspapers in other towns and cities where the deceased used to live.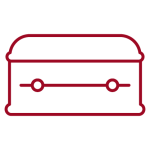 Prepare Graves
A burial service is the most traditional choice of funeral, which usually takes place nearby a church. Let us know which church you would like to lay your loved one to rest in and we will arrange a burial plot on your behalf. We also provide gravestone options and custom coffins.
Get in touch with us if you have any questions or requests, we are glad to help. Call us on 07 4061 6806.